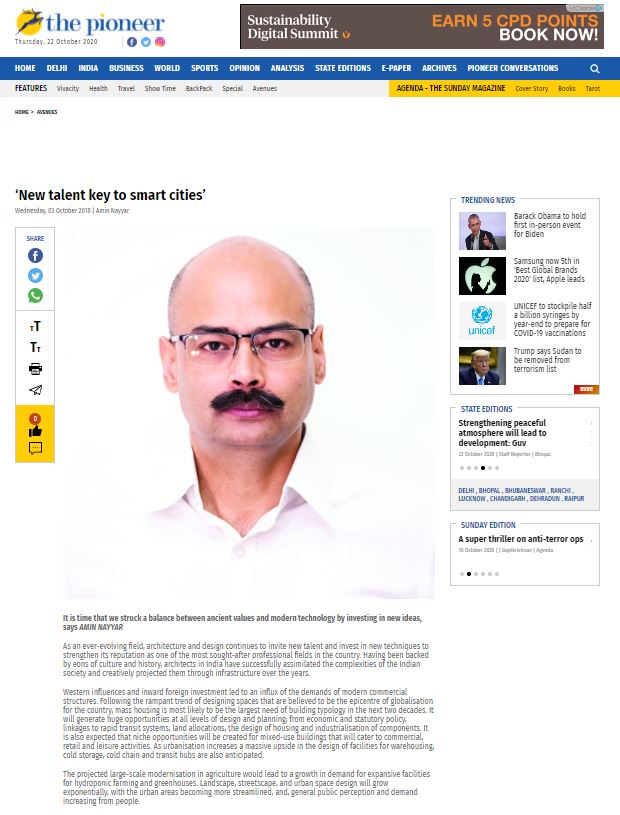 It is time that we struck a balance between ancient values and modern technology by investing in new ideas, says AMIN NAYYAR
As an ever-evolving field, architecture and design continues to invite new talent and invest in new techniques to strengthen its reputation as one of the most sought-after professional fields in the country. Having been backed by eons of culture and history, architects in India have successfully assimilated the complexities of the Indian society and creatively projected them through infrastructure over the years.
Western influences and inward foreign investment led to an influx of the demands of modern commercial structures. Following the rampant trend of designing spaces that are believed to be the epicentre of globalisation for the country, mass housing is most likely to be the largest need of building typology in the next two decades. It will generate huge opportunities at all levels of design and planning; from economic and statutory policy, linkages to rapid transit systems, land allocations, the design of housing and industrialisation of components. It is also expected that niche opportunities will be created for mixed-use buildings that will cater to commercial, retail and leisure activities. As urbanisation increases a massive upside in the design of facilities for warehousing, cold storage, cold chain and transit hubs are also anticipated.
The projected large-scale modernisation in agriculture would lead to a growth in demand for expansive facilities for hydroponic farming and greenhouses. Landscape, streetscape, and urban space design will grow exponentially, with the urban areas becoming more streamlined, and, general public perception and demand increasing from people.
There will be a large investment in manufacturing industry and workspaces. These building typologies offer opportunity in intelligent building and energy management systems. Students who apply themselves to the development of building automation systems and energy control systems will have great potential for growth.
To succeed in this field professionals and students must focus on the building engineering aspects of the structure along with the design itself. They should further practice thinking of the design as a part of a larger eco-system rather than in isolation. On-ground training and understanding the minute nuances of the trade are also a few aspects that should be given importance while building a foundation in the profession.
The Government's vision of building smart cities can only be fulfilled by tapping into the potential of equally passionate and smart working individuals that are open to exploring out-of-the-box ideas and implementing them with conscious zeal. The epoch that we are currently living in offers each one of us an opportunity to collectively design more mindful and sustainable infrastructure; by striking a balance between ancient values and modern technology. It is also crucial to learn the art of opposing without being disagreeable and creating consensus in situations of uncertainty to succeed in the business.